House Clearance
Clearance And Disposal


Call us on 01708 384794




Call us on 0795553068

5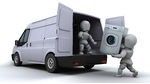 Let us help you de-clutter
your home and free up
allof that valuable space you are wasting. We clear houses, flats, offices, garages, sheds, workshops etc...



Hiring a van usually works out alot cheaper than hiring a skip and saves potential damage to your drive and the risk of upsetting your neighbours.

There is a charge for disposing of your items. All items are disposed of at a local waste disposal site, who charge for their service.
We have a valid waste disposal license and are fully insured.
No need to leave your old sofa in the garden, or your old washing machine outside your house.
Click The Easy Online Enquiry Link to receive a quote or call back
Easy Online Enquiry